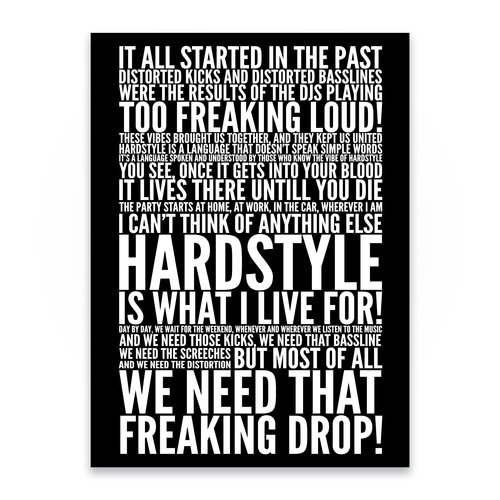 The Prophet
In Hardstyle We Trust A1 Poster
The ultimate home decor for all Hardstyle lovers! Get the In Hardstyle We Trust poster now and display your dedication to the Harder Styles.
The Prophet
The Prophet Wanna Play Shirt
Article code
120919TPWPS-S
Wanna Play, one of the latest hits of The Prophet, has been a great success. With over 1 million Spotify streams in 2 months and full support from all artists, since you literally hear the track at every hardstyle event, it was no doubt that this mega hi
The Prophet
The Prophet THIS IS ME Keychain
Article code
190814TPTIMK
Merchandise doesn't always have to be liked by the crowd. Sometimes, you buy products just because it fits your ideas and suits you as a person. This exactly is the reason why the godfather of hardstyle, DJ The Prophet, created the THIS IS ME concept.
The Prophet
The Prophet Logo Flag
Get your DJ The Prophet flag now and support one of the founders of hardstyle music! For over 30 years, he's been a solid name in the hardstyle industry. His latest hit, 'Wanna Play?' reached 1 million Spotify streams within only two months! His popularit
The Prophet
The Prophet THIS IS ME Bag
Article code
240419TPTIMB
The Prophet presents his new concept: THIS IS ME! In this concept, he will go back to the basics and make music from his heart and feelings. Together with the concept, there is a new THIS IS ME bag. Get yours now before it's too late!